This review is dedicated to Anon 9:11 in the previous comment thread, who requested it.
Comic title: Photos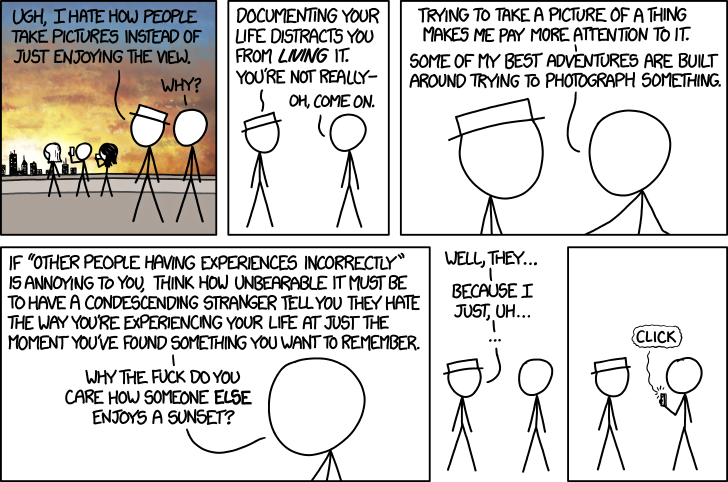 Alt text:
I hate when people take photos of their meal instead of eating it, because there's nothing I love more than the sound of other people chewing.
Oy, I knew we were in for a rough ride when we saw White Hat in the first panel. When did we see this figure in a comic where he wasn't playing a strawman? And I use the word 'figure' instead of 'character' because he is not a character, despite some people's claims that he is.
Let's have a show of hands here (sound off in the comments section if you like) - who thinks Xkcd has characters, in the sense that The Simpsons has characters?
If you said yes, then you must agree to the implication that White Hat in 1314 is the same White Hat who appeared in
915
and
973
. And what is his defining trait in all of these? He is a self-righteous asshole, a snob with opinions, or at least he is portrayed that way. He is the example that you, the audience are not supposed to follow. White Hat's character concept was never supposed to be anything more than a strawman, and so the writing suffers for it.
Good writing is supposed to tell a story, not to tell people what to do. In the
words
of author Philip Pullman: "Thou Shalt Not is soon forgotten, but Once Upon a Time is forever." He would do well to follow his own words, given that
The Amber Spyglass
was basically a religious flame-war in book form. But our Mr Munroe has probably never even heard of words to that effect.
Let me say right now that I largely
agree
with the message being spoken in this comic. I find it does take away from the moment to faff around with exposure settings when you just want to enjoy a pretty sight for what it is, but the payoff is that you get to keep a record of it forever. I
get
that, and yet the comic rubs me the wrong way because it's being preachy. Somehow, the hatless man comes across as the bigger asshole here. He has unwittingly become the very thing that he is fighting, the condescending stranger, the schmuck with opinions.
But why should you listen to me? I am, after all, a schmuck with opinions.
Obligatory grades:
B
for the artwork in the first panel.
D-
for the artwork in every other panel.
F*
for wall of text.
F***
for the preachiness.
DETENTION
for Gizmodo repost.