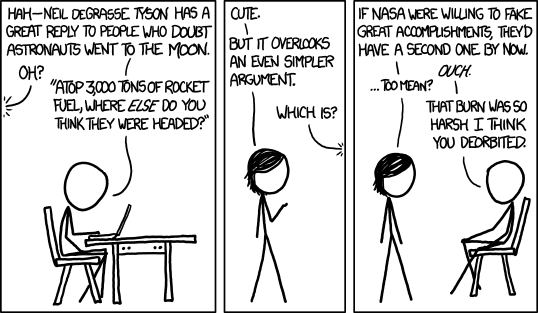 Alt-text: Ok, so Spirit and Opportunity are pretty awesome. And Kepler. And New Horizons, Cassini, Spirit and Opportunity, Curiosity, TiME, and Project M. But c'mon, if the Earth were a basketball, in 40 years no human's been more than half an inch from the surface.
Stop me if you've heard this one before: Stick Figure #1 reads something on the internet and tells Stick Figure #2 about it. Stick Figure #2 comments on it with a you-wish-it-was snappy one-liner. Familiar? Gee, how could that be?
Remember when I said that Randall will never grow as an artist because he doesn't challenge himself? This is a classic sign of that. There are so many ways to make a comic about Something Someone Said On The Internet™, but he will hold on to the tired formula simply because it is easier than coming up with something new every time.
Not that the comic itself is much better on its own merits. All the usual flaws are here - walls of text with little to no action, post-punchline dialogue, you name it. I'd like to note that stick!Randall turns his chair around between panels 1 and 3, just so that he can be shown as facing Megan in the final panel. Apart from the obvious question of "Who does that?", this just shows why even stick figure comics need faces. So that they can look around without moving their whole body.
Some of you may be wondering why I said that the comic contains post-punchline dialogue. Isn't that "deorbited" line the punchline? Actually, no. I have to admit, I don't really get it (maybe because I'm not so well-versed in rocket science), but I get the feeling that even if I did, it still wouldn't be funny. No, the real punchline here is the first line in panel 3. On top of being geuinely funny (though that could be just because I'm a big fat jerk who likes to put everyone down), that line is what the strip is really about, as even the alt-text is building on it. Granted, the alt-text sucks, but the point still stands. I guess this comes to Randall trying hard to be funny and failing, and just being funny somewhere ese by accident.
So, yeah. This would be a great blog post material, but as a comic, it sucks.